Tuesday, 15 April 2014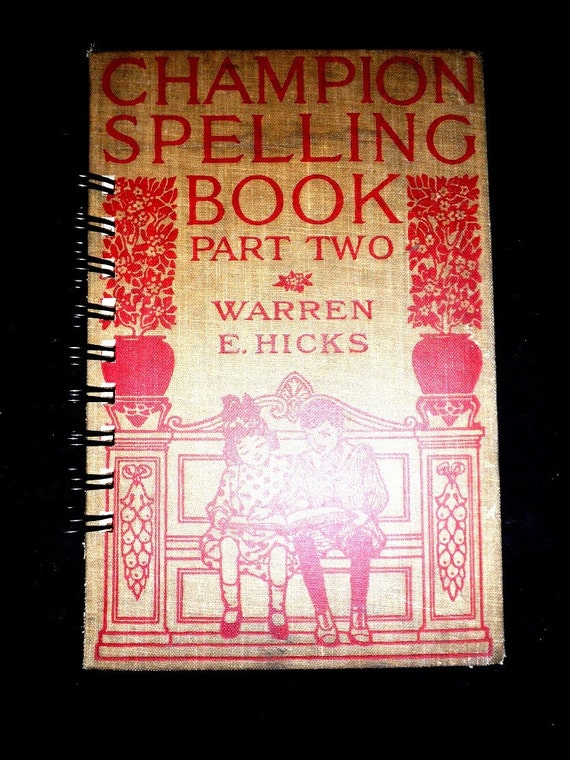 Created from an antique, well-loved copy of the elementary school textbook "Champion Spelling Book." Refurbished and upcycled into an eclectic and one of a kind journal.
Journal includes the original front and back covers, first and last 25 pages or so, and approximately 120 blank, antique finish pages for your creative pleasure.
Journal has been bound with quality, durable metal wiring, enabling the journal to lay flat when open.
Link
Monday, 14 April 2014
Spring Lights
Link
Summer (1889)
Link
Illustrated Travel Diary, 1948
Link
In 1910, when Stephen Tennant was 4 years old, he ran through the gardens of his family's Wiltshire estate, Wilsford Manor, and was literally stopped in his tracks when he came face to face with the beauty of the "blossom of a pansy." Thirty years later, so precious and high-strung that he sometimes took to his bed for months at a time, he was coaxed outside by a friend for a ride in the car on the condition that his eyes be bandaged, since passing scenery might make him too "giddy." Aubrey Beardsley, Ronald Firbank, Denton Welch -- believe me, Stephen Tennant made them all seem butch.
According to Philip Hoare, the author of "Serious Pleasures," the witty and amazing life story of this great sissy, Cecil Beaton was one of the first to encourage Tennant's eccentric vocation of doing nothing in life -- but doing it with great originality and flamboyance. Completely protected by class, Stephen Tennant couldn't care less what people thought of his finger waves, his Charles James leopard pajamas, his makeup ("I want to have bee-stung lips like Mae Murray") or his dyed hair dusted with gold. Who would dare criticize this "aristocratic privilege," this self-described "fatal gift of beauty"? As The London Daily Express, in 1928, so succinctly summed up Tennant's attitude toward life, "you . . . feel that condescension, indeed, can go no further."
Although many who knew Tennant later in life maintained that they "could hardly believe the physical act possible for him," the one real love affair of his adult life was with Siegfried Sassoon, the masculine, renowned pacifist poet old enough to be his father. Sassoon brought to their relationship "his fame, his talent, his position," while Tennant's only daily activities were "dressing-up" and reading about himself in the gossip columns. Looking at the photos of the two lovers in Mr. Hoare's book, Tennant posing languidly (vogueing, really), way-too-thin and way-too-rich, as Sassoon looks on proudly, even the most radical Act-Up militant might mutter a private "Oh, brother!" But the author makes us see that Tennant's extreme elegance was close to sexual terrorism, as it flabbergasted society on both sides of the Atlantic for half a century.
Link
Sunday, 13 April 2014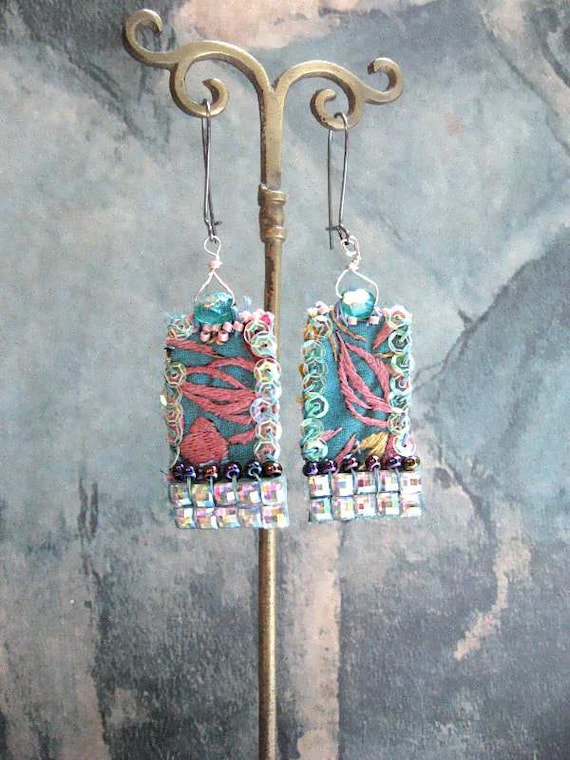 Island Shimmer Earrings, Beaded, Vintage Embroidery, Blue, Pink, Purple, Irridescent, Boho, Elegant
These pretty earrings have vintage embroidered remants, beaded with tiny pale pink glass beads, purple glass, blue glass and tiny irridescent sequins. They have two sparkling rows of rhinestones that pick up and throw off all the colours mentioned. They hang from delicate silver tone wrapped metal wire. The backs looks pretty too.
They are lightweight and measure 3" from the top of the ear wires to the bottom.
Link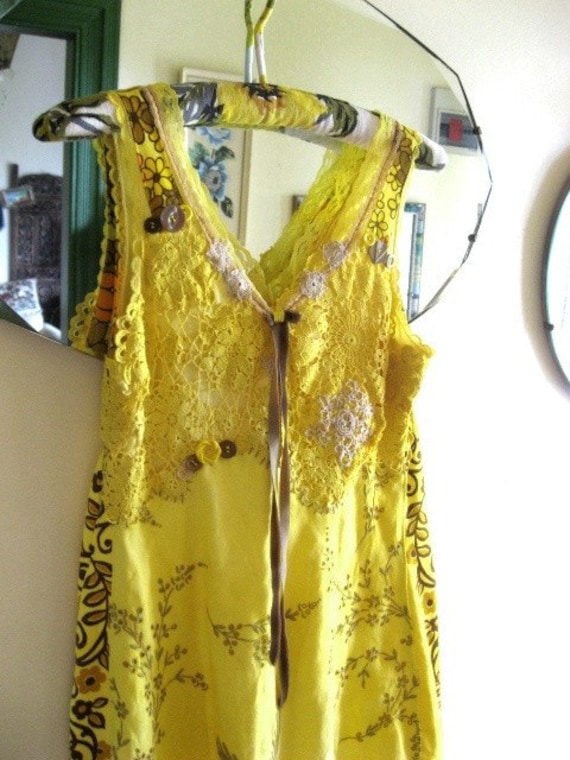 This vintage slip dress has been brought to life by hand-dyeing lots of elements in shades of yellow. I love the vintage hand embroidered linen, the bird and flowers with the tiniest of stitches, incredible.
Vintage retro linen has been used at the sides and plenty of vintage and antique crocheted lace pieces throughout.
I have hand stitched many areas to blend in with the original embroidered linen.
Vintage and deco buttons have been used to adorn different areas.
The top back part has some fabulous vintage retro orange, brown and yellow flower fabric edged in hand-dyed yellow lace.
The main body of the back is made from exquisitely hand embroidered vintage cotton - recycled tablecloth! It is embroidered with lots of roses and other flowers and leaves in pretty tones of peach, orange, pink and green.
Two beautifully hand made butterfly lace doilies finish the back off nicely. The larger lower one has 25 little shining buttons sewn on, it looks really stunning and totally one of it's kind.
On the front top of the dress I have hand sewn on some antique lace rounds in their original tea-stained colour and also at the base.
Simply finished off with a taupe brown velvet ribbon bow :-)
Link