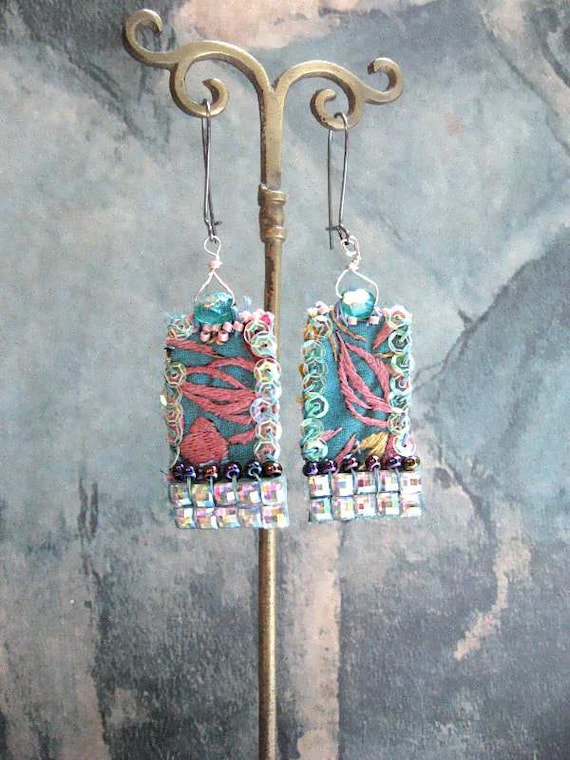 Island Shimmer Earrings, Beaded, Vintage Embroidery, Blue, Pink, Purple, Irridescent, Boho, Elegant
These pretty earrings have vintage embroidered remants, beaded with tiny pale pink glass beads, purple glass, blue glass and tiny irridescent sequins. They have two sparkling rows of rhinestones that pick up and throw off all the colours mentioned. They hang from delicate silver tone wrapped metal wire. The backs looks pretty too.
They are lightweight and measure 3" from the top of the ear wires to the bottom.
Link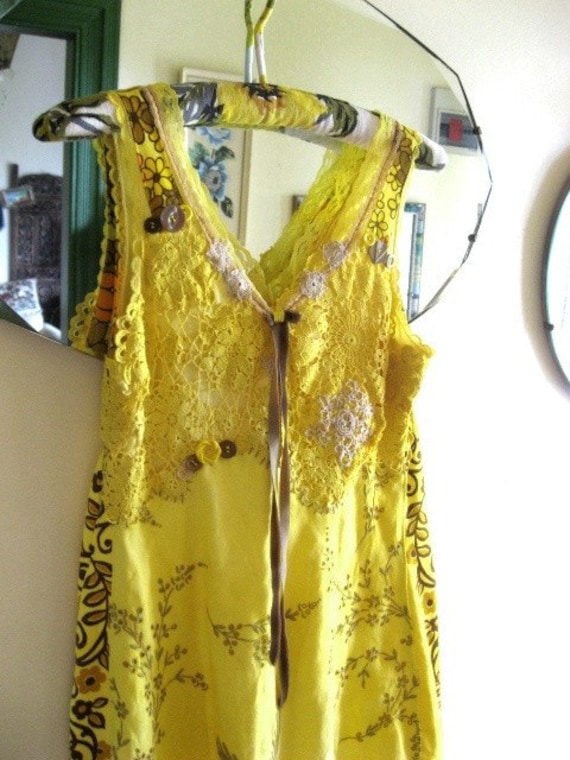 This vintage slip dress has been brought to life by hand-dyeing lots of elements in shades of yellow. I love the vintage hand embroidered linen, the bird and flowers with the tiniest of stitches, incredible.
Vintage retro linen has been used at the sides and plenty of vintage and antique crocheted lace pieces throughout.
I have hand stitched many areas to blend in with the original embroidered linen.
Vintage and deco buttons have been used to adorn different areas.
The top back part has some fabulous vintage retro orange, brown and yellow flower fabric edged in hand-dyed yellow lace.
The main body of the back is made from exquisitely hand embroidered vintage cotton - recycled tablecloth! It is embroidered with lots of roses and other flowers and leaves in pretty tones of peach, orange, pink and green.
Two beautifully hand made butterfly lace doilies finish the back off nicely. The larger lower one has 25 little shining buttons sewn on, it looks really stunning and totally one of it's kind.
On the front top of the dress I have hand sewn on some antique lace rounds in their original tea-stained colour and also at the base.
Simply finished off with a taupe brown velvet ribbon bow :-)
Link